BEFREE SOUND BFS-425 Surround Sound Bluetooth Speaker System – Black
Tenth Place 2017
Home Theater Surround Sound Systems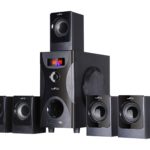 PROS:
Nicely designed and finished
Excellent value for money
Sound is Decent
Easy to setup
Bluetooth Capabilities
CONS:
Non wireless
Wired not long enough
Synopsis:
Last but not least the Befree Sound BFS-425 surround sound Bluetooth speaker system comes with Bluetooth, USB, SD and FM radios capabilities providing you with the best listening options. This product is affordable. It is not wireless, all the wires come with this system. The bass is ok, but not that great. We have found this product to have poor quality even when playing along with our gaming systems(entertainment). This product is for consumers with basic surround sound needs. Not many consumers found this product to be great, but good enough to purchase for the price.