Third Place
Bose SoundLink Revolve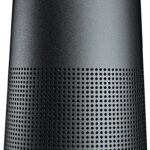 PROS:
Easy to connect with other devices
Support voice input From Google and even Siri
This Bluetooth speaker is waterproof
It also works as speaker phone and doesn't muffle or echo words
Powerful lithium ion battery promising 12 hours of running time
Great sound quality for up to 120 people
CONS:
This Bluetooth speaker is very expensive in itself and its accessories add to the expense
Bluetooth connectivity is limited to 30ft only
Synopsis:
Even though it is fairly expensive, the Bose Soundlink Revolve is good choice for those who prefer 360-degree surround sound. The sound quality is great as it provides an immersive and deep sound output in a compact body. The device uses 17 watts and additional provides 3.5 mm supporting input with micro-B USB port. Bluetooth connection is up to 30 ft. The body is structured seamlessly making it easy to carry around or place anywhere .
Price: $199
Sorry, we couldn't find any posts. Please try a different search.