Dr Scholl's Sport Insoles
Tenth Place
Dr Scholl's Sport Insoles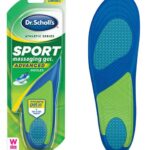 PROS:
Added cushioning for your feet while you work out
Very flexible arch support
Massaging Gel Technology reduces stress on the joints in the legs while avoiding muscle fatigue.
CONS:
Only suited for athletes and not at all comfortable for ordinary wear.
Higher price in comparison to others in the same range.
Synopsis:
The last but not entirely the least on this list are another one from Dr Scholl. These sport insoles provide superior shock absorption and reduce muscle fatigue as well as additional stress on the joints in the lower half of the body. Meekly designed for athletes, these sports insoles have a flexible arch support and have a massaging gel technology.
Price: $14.59