Dual Tower Televison TV 47" Entertainment Center and Media Stand Storage Towers in Cherry Wood
Seventh Place 2017
Entertainment Center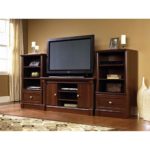 PROS:
Easy to setup
Nicely designed and finished
Decent Quality
CONS:
Defected parts
Not easy to assemble
Instructions not that great
Synopsis:
The Dual tower Television TV 47" Entertainment center is actually a pretty good product when built correctly. The design is good and fits most t.vs, good spacing in the middle. We feel the  price of this product is a bit much. The only problem we found is that some of the pieces came in bent leaving various gaps, and the instructions were terrible. We found this product to be very challenging to put together due to the shape of the pieces. Keep in mind you must pay attention to the shape of the pieces when putting together. We do recommend this product for more handy consumers!