Ninth Place
eDILA Posture Corrector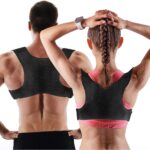 PROS:
Very affordable
Reduces pressure on spine and upper back
Reduces slouching immediately with adjustable double strap design
CONS:
Not very durable and straps wear out in 2 months
Synopsis:
Comfortable and discreet, this posture corrector can be worn conveniently underneath your clothes and provides instant pain relief and posture correction. It has a fully adjustable spinal bracing which provides effective relief for clavicle, shoulders, neck and back. It made of highly comfortable neoprene material and has strong padded straps with metal brackets.
Price: $14.99