Third Place
Flent's Earplugs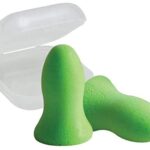 PROS:
Offer noise protection from snoring and ambient noise during sleep as well as heavy machinery or workplace noise pollution
The material tapers to the ear canal making them a custom fit
CONS:
The shape makes them prone to falling out of the ears while sleeping
The foam is a bit rigid for the ear canal
Synopsis:
This 10 pair pack comes with an earplug case for a very low price and offer a Noise Reduction Rating of 33dB. They are not only good for sleeping but also work well while studying, traveling or indulging on sports. They are latex free and very comfortable to wear.
Price: $2.98