Seventh Place
Flent's Foam Earplugs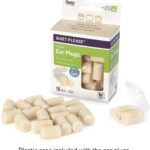 PROS:
Noise Reduction Rating of 29dB
Comfortable size which makes them fit just fine inside the ear
Very inexpensive
Reusable for about 3 to 5 times
CONS:
Not great for concerts since they muffle the high tones a lot
They have a strong plastic odor for a few days once you open the pack
Synopsis:
With a high Noise Reduction Rating of 29dB, Flent's Foam Earplugs are available only for $2.98 and include 10 pairs and an earplug case, which is great value for money. In terms of their usability, these earplugs are great to be used at concerts, construction sites, factories or any other such place where the environment is generally loud. They are extra soft and made from extra light foam which tapers to the ear canal for a custom fit.
Price: $2.98