FRALIMK LED Bathroom Mirror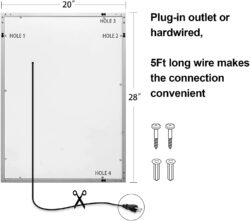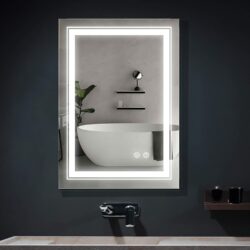 PROS:
It has an elegant and sleek design
The installation is easy
Three light settings, white, warm, and dim
There is a de-fogging functionality
It is worth the price
Synopsis:
This LED bathroom mirror is the top-rated on our list. With a thickness of 5mm, it offers high reflective quality and clear vision. It has a memory function that remembers your light settings when the power is cut. The anti-fog function eliminates the fog with just a touch of a button. Also, you can turn off the function if not needed.
Short pressing the power button, you can adjust the color between 6000K white light, 4000K natural light, and 3000K warm light. The brightness also has an adjustment setting of 15% to 100%. A well-designed waterproof back frame is perfect for a wet environment.  You can install it horizontally or vertically. The sleek and modern design goes well with any bathroom decor.
Sorry, we couldn't find any posts. Please try a different search.