Garmin vívoactive Tracker, Black
Sixth Place 2017
Fitness Tracker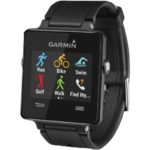 PROS:
User Friendly App
Waterproof
Nice Design
High Quality
CONS:
Watch software can be unstable
Smartphone connectivity can be unstable
Apps library limited
Synopsis:
Garmin Vivoactive black fits comfortably on most wrist between 6.38 to 8.86 in circumference, it monitors the heart rate 24/7, has A GPS sports app. long battery life, water resistant and has smart notifications. The issue with this watch is that it has been found to lose data and reset on it own, the weather is normally never accurate, hard to read the screen(words to small) and product price point vs its quality do not add up at all price too much. We still recommend this product for those people unaffected by its flaws!