GPX HT050B 5.1 Channel Home Theater Speaker System (Black)
Fourth Place 2017
Home Theater Surround Sound Systems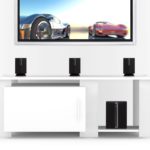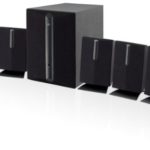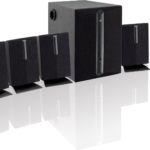 PROS:
High Quality
Nicely designed and finished
Excellent value for money
Great sound
CONS:
Will not fill a large room with dynamic sound
Synopsis:
Coming in at #4, GPX HT050B 5.1 Channel Home Theater with virtual surround sound. It comes with 6 surround speakers: subwoofer, front left and right, rear left and right and center.  You can control the bass and volume from the back of the subwoofer with control knobs. However, its doesn't come with a remote and is small but doesn't effect the quality of sound. Overall, this a good product.