Hansong Vanity Mirror with Lights
Fourth Place 2021
LED Mirrors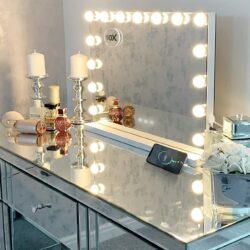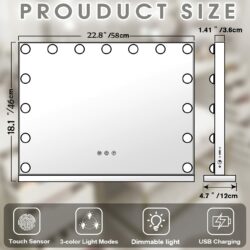 PROS:
It is a beautiful mirror with a sturdy feel
The touch control system is very responsive
It is easy to assemble
There is a detachable magnifying mirror
Three light modes
USB charging port included
The price is convenient
CONS:
It is a bit heavy but sturdy
Synopsis:
The Hansong vanity mirror with lights consists of 15 LED bulbs. Measuring 22.8" x 18.1", it provides a perfect view. The surrounded bulbs have three setting, warm, daylight, and cold light. Using the embedded charging port, you can charge your phone and other USB devices. The brightness is also adjustable according to the need.
Smart touch and memory function help to easily turn on/off and keep the settings tight. Designed with a detachable base and back holes for nailing, it can be attached to the dressing table or wall-mounted. Made of a durable metal frame, it comes with a three-year warranty.
Sorry, we couldn't find any posts. Please try a different search.