Legiral Massage Gun for Athletes
Fourth Place
Legiral Massage Gun for Athletes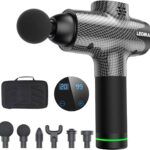 PROS:
Easy to use LED control
6 extra massage heads to be used on different spots on the body
You can conveniently switch between clockwise and anti-clockwise motion of the balls by pressing a simple button
Wireless with a rechargeable battery
CONS:
Too expensive and profession for regular use
Best suited for physical therapists and professional chiropractor?
Synopsis:
The perfect massage gun for athletes, the Legiral Massager is an expensive hand massager which comes with 6 different massage heads to be used for various different purposes.  It is wireless and works on a rechargeable battery, which gives a minimum 6 hours of working time. The Legiral Massage gun provides relief against sore muscles, stiff backs and tightened muscles. This device is also used by chiropractors and physical therapists.
Price: $129.99