Lifesource UA-1030T Talking Blood Pressure Monitor
Tenth Place 2019
Blood Pressure Monitor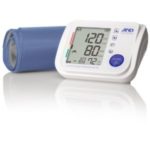 PROS:
Can talk clearly.
3 language option.
Inflation sensitivity of machine can beset so that it may not squeeze your arm hard.
CONS:
Very expensive.
Cuff size and fitting problem.
Synopsis:
Our last entry for today's list can literally talk. It's best for someone with poor eye-sight. The device can tell reading clear and loud in 3 languages i.e. English, French and Spanish. There have been issues with the cuffs  size and fitting problems. Though the device comes up with soft squeeze that doesn't let it squeeze your arm tightly but it does come at a high price.