Mack's Pillow Soft Silicone Earplugs
Winner
Mack's Pillow Soft Silicone Earplugs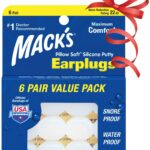 PROS:
Prevents ear infection & safe for use after surgeries
Offer noise reduction of up to 22dB
Ultra-comfortable and soft and put no external pressure on your ear canal
CONS:
Not suited for people with vertigo
Sticks to the hair while taking off
Synopsis:
Taking the number 1 spot on this list of the best earplugs for a comfortable sleep are Mack's Pillow Soft Silicone Earplugs made with moldable silicone and best for use while sleeping, traveling, swimming or even attending concerts. Boasting a staggering 9000+ five-star rating on Amazon, these earplugs are easily the most popular and reliable earplugs available in the market. Based on the variety of settings they can be used, these earplugs offer safe, waterproof and non-toxic protection against noise, water and pollution alike. These are available in a pack of 6 pairs for a very low price.
Price: $3.96