Manhattan Comfort Morning Side Entertainment Center, Nature and Nude
Fifth Place 2017
Entertainment Center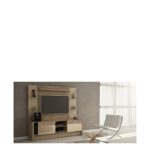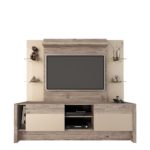 PROS:
High Quality
Nicely designed and finished
Excellent value for money
CONS:
Not easy to assemble
A bit pricey
Synopsis:
The Manhattan Comfort Morning side Entertainment fits a 50" flat screen TV with a wood finish an is very smooth . It comes with two doors that slide with metal handles providing you with a place to put your electronics, dvds, cd's, etc. I stands on its on, which is pretty good. The doors are glass, which may not be meant for those that have children. With proper supervisions this a good product to purchase,weighing in at 185 pounds. It will hold up to 71 inches height x 74 inches wide. The only concern about this product is that it is not easy to assemble, and some parts are delivered missing according to many consumers as well.  A bit more on the pricey side, but worth the purchase. This product is worthy of budgeting!