Mack's Slim Fit Foam Earplugs
Fifth Place
Mack's Slim Fit Foam Earplugs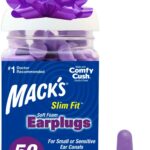 PROS:
High Noise Reduction Rating of 29dB
Great for protection of hearing especially in older adults
Provide maximum comfort for ear canals
CONS:
Don't fit well in broader ear canals
Synopsis:
If there's one brand which stands out from the rest when it comes to Earplug manufacturing, Mack's is the name. The third Mack's product on this list, these slim fit foam earplugs are fully skinned and provide a hygienic solution to customers. With a Noise Reduction Rating of 29dB, these foam earplugs are one of the most comfortable earplugs out in the market.
Price: $8.69