Mack's Ultra Soft Foam Earplugs
Second Place
Mack's Ultra Soft Foam Earplugs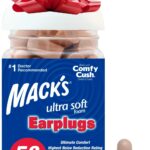 PROS:
The best noise blockers and perfect for sleeping, studying or traveling
Made with low pressure foam which reduces pressure on ear canal
Easily compressible and easily inserted and removed
CONS:
The quality of the 50 pairs can be sometimes inconsistent
Not suited for broader ear canals
Synopsis:
Offering a Noise Reduction Rating (NRR) of 33dB, Mack's Ultra Soft Foam Earplugs are the best choice for first time buyers. Its Cush Comfort Technology reduces the pressure on ear canal reducing any risks of pain associated with wearing earplugs through the night. For less than $10, you get 50 pairs of ultra-comfortable earplugs, which are even though disposable but many customers have reported using a single pair for up to 3 nights, without any complain. This makes up to 6 months of earplug supply at a very low cost.
Price: $9.89