Mpow Ultra Soft Foam Earplugs
Eighth Place
Mpow Ultra Soft Foam Earplugs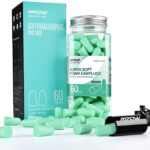 PROS:
High Noise Reduction Rate of 39dB
Great for meditation, study or sound sleep
Protect ears and prolongs proper hearing
CONS:
Causes sweating around the ears quickly
Synopsis:
Mpow ultra-soft foam earplugs are non-toxic, comfortable soft earplugs, offering noise reduction rating of 39dB. This is one of the highest NRR offered by any earplug. These Mpow Earplugs are very light and dense providing perfect fit for all sorts of ears. They are not only great for a sound sleep but also protect your ears from irritants while you swim. The Mpow ultra foam earplugs are best for super noisy places like construction sites, concerts, fireworks, or spectator stands at a sports event.
Price: $12.99