Second
Ring Flood Light Camera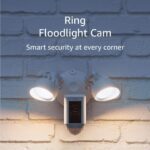 PROS:
Weather resistant outdoor light
Detects motion within 30 feet
Sounds a loud 110-decibel alarm remotely
Compatible with Alexa
Includes customizable privacy features
CONS:
Doesn't save data and requires you to purchase Ring Protect Plan separately
Synopsis:
Not just a motion sensor but a great security system in place, the ring flood light camera is a motion activated floodlight, and camera all in one. It has a 270 degree motion sensor which detects any activity or motion within 30 feet. It also comes with a loud siren alarm and in case you spot any suspicious activity, you can easily sound the loud 110 decibel alarm from your smartphone through the Ring app. The unit is weather resistant and has a very bright light which is switched on when any motion is detected near or around the house. It also offers compatibility with Alexa and allows you to talk to the front door.
Price: $189.99