Third Place
Simplisafe Motion Sensor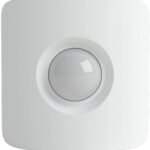 PROS:
Great for indoor monitoring
Doesn't detect pets weighing under 50 pounds
Provides a 90 degree vision with full coverage
Has a 30 ft range and detects any suspicious motion around it
CONS:
Not the best choice for outdoor monitoring
Not weather resistant
Synopsis:
One of the most common issues with motion detectors is their lack of ability to detect  normal from suspicion which often results and raising false alarms and creating panic. This particularly happens in houses with pets as the motion sensor often detects pets as a sign of suspicion and rings alarms. The Simplisafe Motion Sensor is great for pet owners and has a 90degree vision field which provides a full coverage of the room if it is placed in one corner. It is easy to install and very flexible and can be set on a shelf or mounted on the wall. It is designed to avoid false alarms.
Price: $29.99