Snoky Back Brace for Posture Correction
Fifth Place
Snoky Back Brace for Posture Correction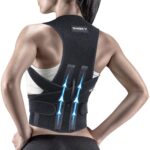 PROS:
Strong back brace providing support to complete back
Double brace plates for added reinforcements to the lower back
Highly adjustable
Made with soft and breathable fabric
CONS:
Not the best option to wear underneath clothes as it shows and is also recommended to be worn over the clothes
Synopsis:
This long-line back brace is the ultimate and most comfortable solution for long term bad posture. It provides support from the base of your neck to the top of your hip. It also keeps you away from slouching or slumping and is great for kids and grownups alike. It is unisex and has 2 braces on the back which provide strong support to your spine and stabilize your waist, chest and back. If worn 1 or 2 hours every day, it helps develop muscle memory and eventually works to eliminate slouching from your posture.
Price: $29.99