Sony MPCD1 Mobile Projector
Ninth Place
Sony MPCD1 Mobile Projector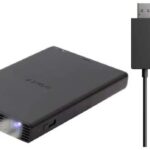 PROS:
Good image output
Comes with a leather case
Long lasting bulb
HDMI and MHL connectivity ports
Sleek design and very compact
CONS:
Quite pricey for the features it offers
Brightness is relatively low
Wireless dongle is not included in the product
Connection choices are limited
Synopsis:
Sony has a reputation with great video and image outputs and is known for the durability of its products, which is why the price tags on Sony gadgets might be on the high end, but offer great value for money. The Sony MPCD1 mobile projector is no different. Even though it offers limited connection choices of only HDMI and MHL, the projector promises a great video output and has a very sleek design and is easy to carry. It comes with a leather case which makes it quite portable and the lightweight only adds to the benefits this one has to offer. The product doesn't include a wireless dongle and in order to connect it to the WiFi you might want to buy the dongle separately. This projector is best for use at home to watch movies and TV shows in a darker room given that it has relatively lower brightness levels.
Price: $369.99