Superfeet Green Professional Insoles
Fourth Place 
Superfeet Green Professional Insoles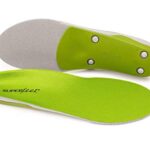 PROS:
These are high profile and high volume insoles providing sufficient amount of space for the foot to be trimmed to you size and fit inside your shoe.
They have a large deep heel cup, allowing greater arch support to your feet.
Provide added cushioning to the foot with a high density foam layer.
CONS:
Not recommended for people with smaller feet size as the heel cup might not adjust.
The product is quite pricy as compared to other similar products
Superfeet doesn't offer a refund, if the insole doesn't fit.
Synopsis:
Made of professional-grade material, the Superfeet green professional insoles are best suited for doctors, nurses and any other such professional that are required to stand for long hours while on duty. These insoles are quite long lasting and despite the high-end price, they are a really good investment.
Price: $49.45