TOZO NC9 Hybrid wireless earbuds
Seventh Place
TOZO NC9 Hybrid wireless earbuds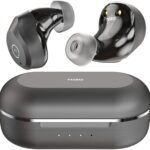 PROS:
Active and powerful noise cancellation
Impressive bass effect
Easy touch technology
Affordable price according to the features of this product
Ear caps are designed to make it secure for your ear canals
Battery life is 8 hours and including the case it becomes 24 hours extra
It provides wireless charging
Water and dust resistant
CONS:
These earbuds lack high volume.
It is plastic made and the design isn't too trendy
Synopsis:
These hybrid wireless earbuds with a multilayered active noise cancellation stand at number 7 on our list of best top 10 earbuds on Amazon. They offer a great immersive sound quality and are waterproof. The microphone is also dual noise cancelling which gives a promising audio input.
Price: $59.99