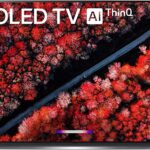 PROS:
Excellent video output
Wide color reach
Powerful sound output
Google Assistant enabled smart TV platform
CONS:
Quite expensive
Limited streaming services available
Possibility of permanent burn on static video
Synopsis:
One of the best TVs available in the market, the LG C9 OLED delivers an outstanding performance with its perfect black uniformity, vivid colors and immersive sound outputs. It delivers an exceptional cinematic experience and is great value for money. In terms of design, the LG C9 OLED has a beautiful and sleek design with a remarkably thin frame. It has an instantaneous response time and its emissive technology ensures a picture perfect video output. It has wide viewing angles and it conveniently up scales low resolution content. In terms of its adaptability with gaming, it promises an excellent performance owing to its low input lag and instant response. The only downside is its Auto Brightness Adjustment Feature which can be quite distracting at times. The TV also has an amazing Google Assistant enabled smart TV platform.
Price: $1,844.00