Winner
Truveo Posture Corrector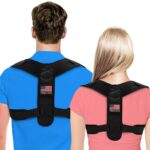 PROS:
Soft and breathable fabric
Adjustable brace from varying chest sizes
Unisex
Discreet enough to be worn underneath clothes
CONS:
Digs a little in your armpits and might cause discomfort
Synopsis:
With an adjustable upper back brace, the Truveo Posture Corrector supports the neck, back and the shoulders to give you an upright posture. It provides the much needed alignment to your body while you sit, stand, laydown or carry on with your usual activities. This not only helps in avoiding slumped back, but also assists in correction of long standing poor posture. The brace is adjustable and fits chest size ranging from 30" to 43".
Price: $19.99