Eighth Place
Vokka Posture Corrector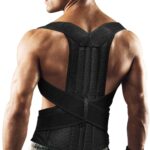 PROS:
Comes with a lifetime warranty
Comes in 3 adjustable sizes with a large Velcro strap
Helps correcting posture if you work long desk jobs
CONS:
Not recommended wearing beneath clothes
Synopsis:
Vokka Posture Corrector is another ideal choice for use if you have long office working hours which are causing a slouched posture or continual back ache. The complete back brace provides neck to hip support and has two brace plates at the back to give added strength to the lower back. It is made of soft and breathable fabric which is easy to wash and comfortable to wear.
Price: $28.99