WJLING Motion Sensor Alarm
Eighth Place




WJLING Motion Sensor Alarm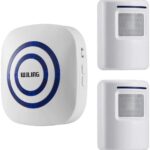 PROS:
Weather resistant and can be installed outdoors conveniently
It is quite durable and offers excellent value for money
Alarms can be customized with 38 ringing options and volume range of25-80dB
Ideal to install in your hallway, front door entrance or garage doors
CONS:
Batteries are not included in the pack
Synopsis:
The WJLING motion sensor alarm uses infrared rays to detect motion for a range of up to 328 ft. between sensor and receiver allowing you to place it anywhere within 100 meters of the receiver. It gives your warnings for unsolicited visitors. It is easy to set up and has a wireless connectivity and works on 3AAA batteries. It is quite durable and water resistant making it best for installation outdoors. The alarm can be customized and has over 38 ringtones to select from and offers a volume adjustment range of 25 – 80dB. It is a fully expandable system and can be connected with other security systems as well. It can be wall mounted or installed on the ceilings.
Price: $24.99