Wyze Cam with Wyze Sensor Kit
Winner
Wyze Cam with Wyze Sensor Kit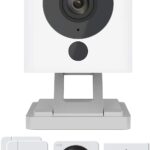 PROS:
Detection range of up to 26 ft
Gives access to motion sensor history
Integrated with Wyze surveillance cameras which offer 24/7 video monitoring of your property as well
Works with Alexa Command and IFTTT
It is very easy to install
CONS:
The adhesive for motion sensors is quite weak and needs additional reinforcement
Requires the Wyze camera to function
Synopsis:
The Wyze Cam with Wyze Sensor Kit is just the right choice if you are just beginning to add security reinforcements to your home. The sensors can be easily installed on your doors and window and can be integrated with your smartphone. The moment these sensors detect any unusual movement, they will send you a notification on your smartphone. These motion sensors have a detection range of up to 26 ft and since they come with a camera, the system also offers video surveillance. It also records the motion history and gives you complete access to the history.
Price: $59.96