Ergodyne Proflex Back Support Brace
Tenth Place
Ergodyne Proflex Back Support Brace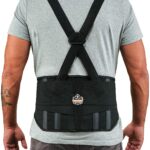 PROS:
Strong abdominal support
Shoulder straps can be detached and it can be used as a simple back support belt
Provides extra lumbar support
CONS:
Not suited for shoulder and neck pains
Synopsis:
Available in 8 varying sizes, this back support brace is unisex and fits men and women of varying build. It has an extra firm support to the lower back and has a contoured high cut front panel for a comfortable fit. The non-conductive polypropylene material offers long lasting integrity and the firm and adjustable suspenders keep the belt in place. It is most suited for construction workers, weight lifters and other people associated with heavy lifting or moving jobs. It provides added abdominal support and can be worn over and underneath clothes.
Price: $19.04