Seventh Place
Fit Support Back Brace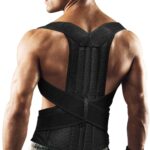 PROS:
Unisex back brace
Comfortable to wear throughout the day
Relieves back pain immediately
Provides complete back support from neck to hip region
Added shoulder support
Great design and can be worn over clothes
CONS:
Shows through the clothes if worn underneath
Synopsis:
This unisex back brace by Fit Support is a great choice to wear while on the go. You can wear it while you carry on your regular activities be it going to the office or exercising at the gym. It helps relieving back pain intensely and provides full back support and also protects your waist. It can also solve humpback and neck pain if you wear it regularly. Since shoulder pain is the most common issues associated with long hours at desk job, this back brace helps you get rid of that bothersome shoulder pain.
Price: $23.11